Ugoos AM8 Plus Description
Ugoos AM8 gets 4GB Memory and 32GB internal storage, works on Android 11 OS. Device can support AV1 and other well-know Video Formats. Internet connection works due to fast 1Gbit LAN and WIFI 6 MIMO chipset and two Dual-band antennas on board. For different accessories connections, AM8 uses Bluetooth 5.3 LE.
In the ever-evolving landscape of technology, Amlogic has emerged as a prominent player in the field of system-on-a-chip (SoC) solutions. Their latest offering, the Amlogic S928X, is a testament to their commitment to pushing the boundaries of performance and innovation. Let's dive into the hardware specifications of the Amlogic S928X and explore the incredible capabilities it brings to the table.
At the heart of the Amlogic S928X lies a powerful CPU that ensures smooth and lag-free performance. Equipped with a penta-core Cortex-A55 processor x A76, configured in 64bit mode, the S928X delivers lightning-fast processing power. This enables seamless multitasking, swift app launches, and effortless navigation through the user interface.
Amlogic S928X CPU / GPU
To complement its robust CPU, the Amlogic S928X boasts a state-of-the-art GPU that takes visual performance to new heights. Armed with the ARM Mali-G57 MC2, 4K GUI GPU, OpenGL ES 3.2, Vulkan 1.2 and OpenCL 2.0, the S928X delivers stunning graphics rendering and exceptional gaming experiences.
Whether you're indulging in graphically intensive games or enjoying high-definition multimedia content, the S928X ensures a visually immersive experience like never before.
When put to the test the Amlogic S928X benchmarks will showcases its impressive capabilities. In popular benchmarking tools such as Antutu and Geekbench, the S928X will rank among the top performers in its category.
Its remarkable scores will show its ability to handle demanding tasks with ease, making it an ideal choice for power users and tech enthusiasts.
Amlogic S928X 8K Display
One of the most exciting features of the Amlogic S928X is its support for 8K resolution. With the growing popularity of 4K content, the S928X takes it a step further by enabling users to enjoy breathtaking visuals in 8K resolution.
This means sharper details, vibrant colors, and an overall enhanced viewing experience. Whether you're streaming the latest blockbuster movies or immersing yourself in high-resolution gaming, the S928X ensures every pixel comes to life.
In addition to its impressive hardware specifications, the Amlogic S928X also offers a wide range of connectivity options. With support for HDMI 2.1, USB 3.0, and Gigabit Ethernet, the S928X ensures seamless connectivity and high-speed data transfer.
This opens up a world of possibilities, allowing users to effortlessly connect their devices, stream content, and enjoy a truly connected entertainment experience.
Ugoos AM8 Plus Features
– Android 11
– 8K Ultra HD
– AV1 support
– LAN 1GBit
– WIFI6
– S928X-J Amlogic
– CPU 4xA55 1xA76
– GPU G57
– USB3.0
– SPDIF
Let's learn a little more about each feature!
NEW WIFI 6E IN UGOOS AM8
Gives you additional 59 channels at 20 MHz frequency in order to make a connection more stable and effective.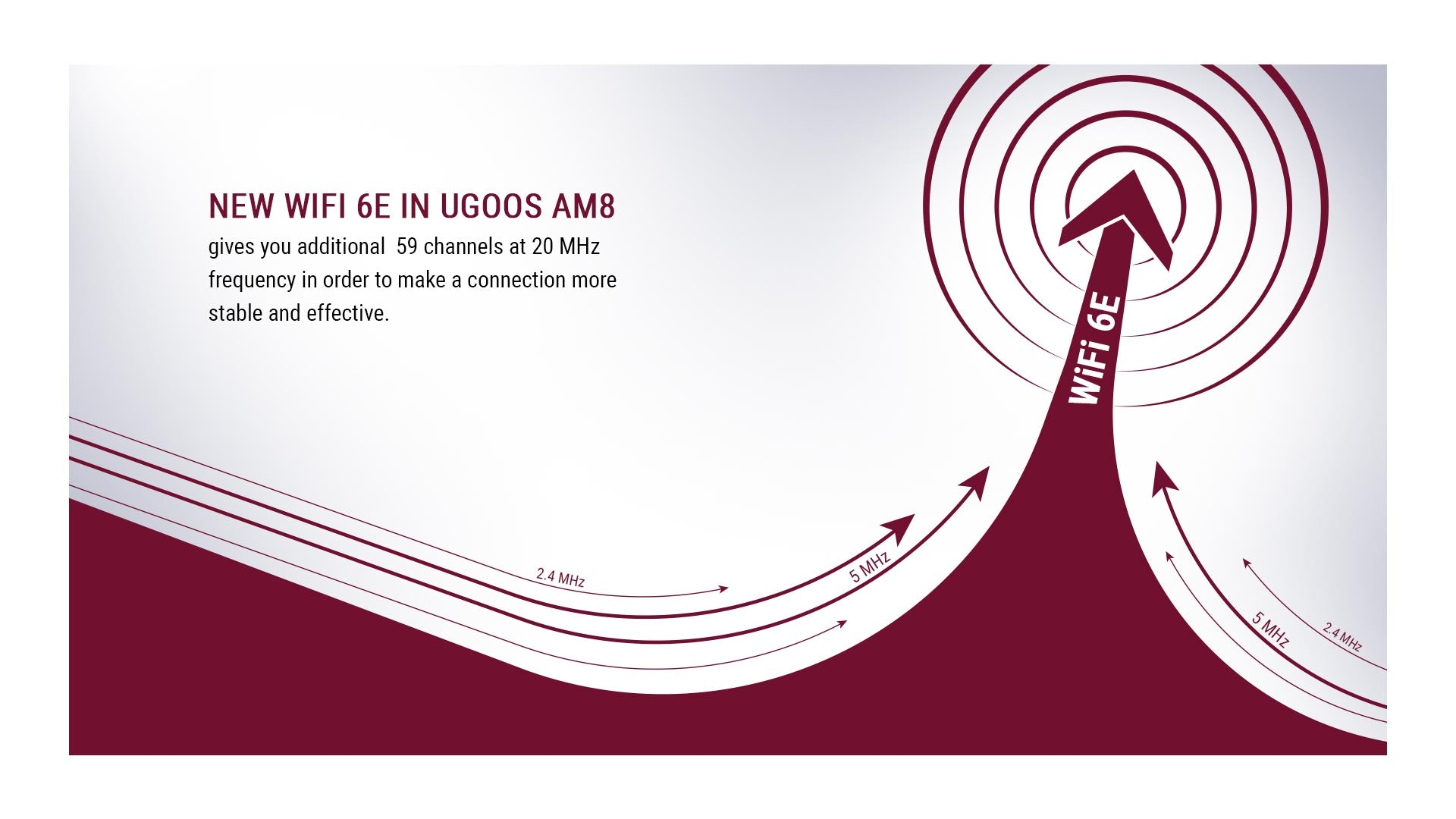 AM8 SUPPORTS
AV1 CODING FORMAT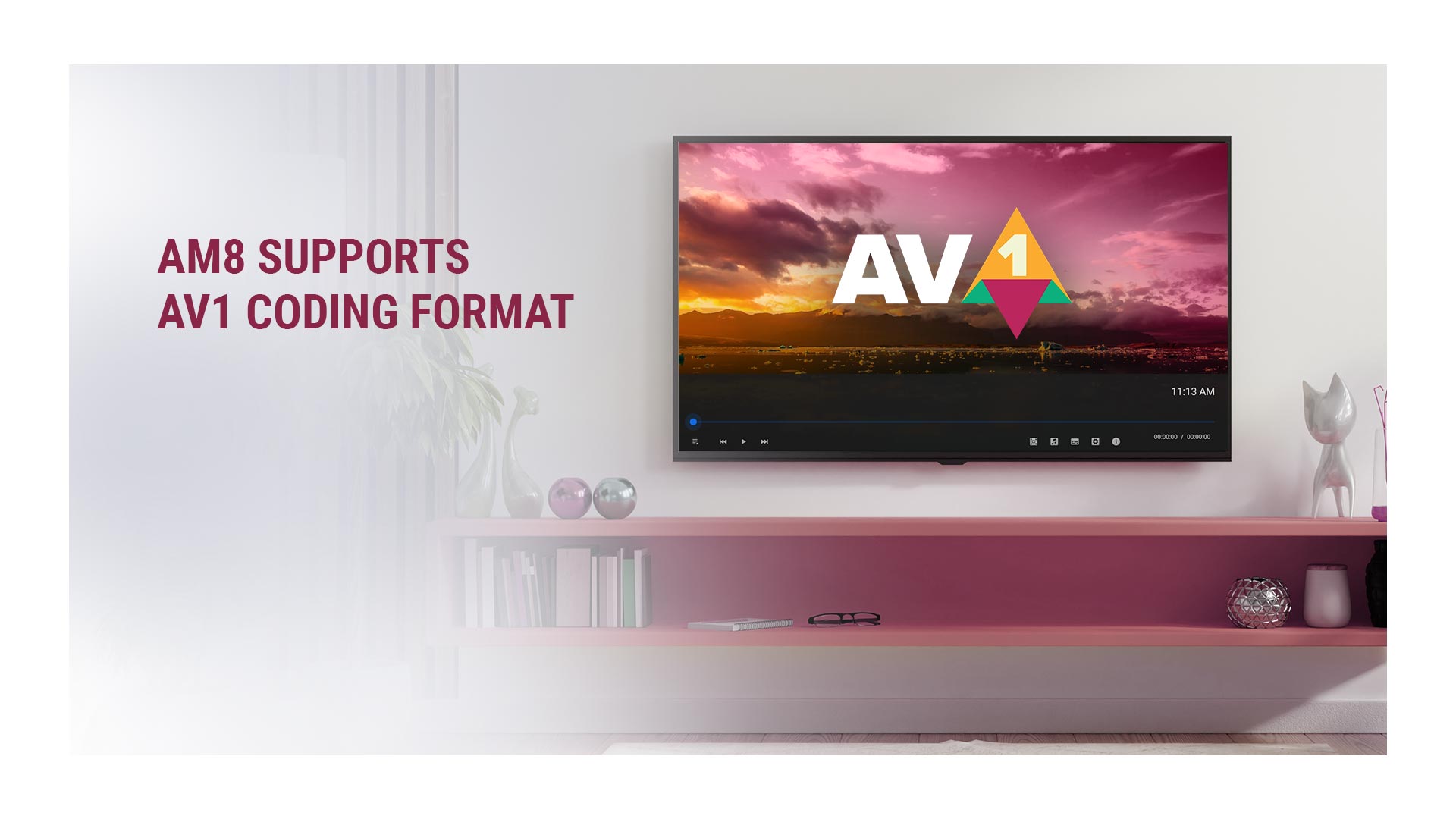 UGOOS TV BOXES
AFR System in Ugoos TV Boxes controls the resolution and the frequency for smooth playback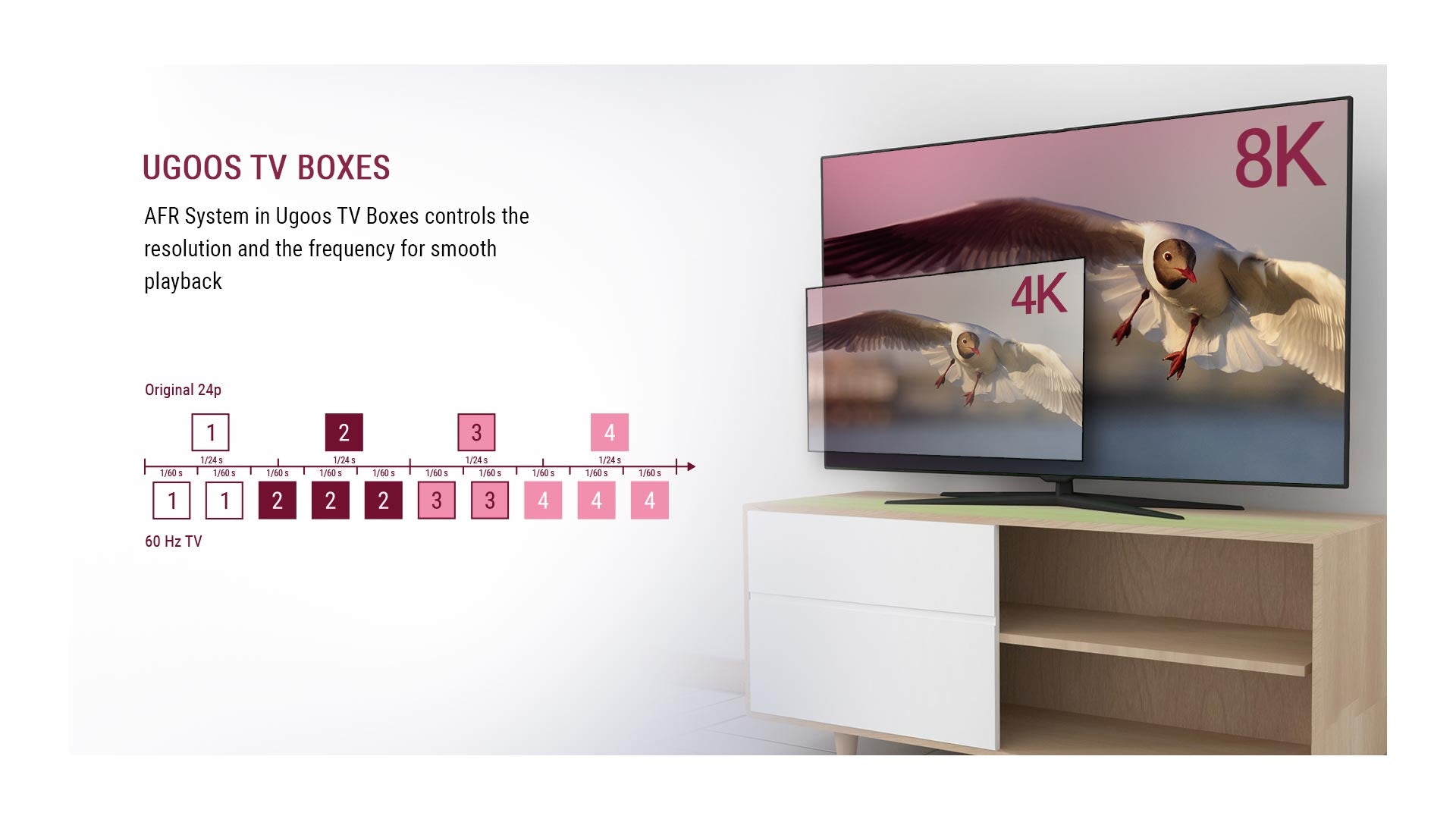 UGOOS BLUETOOTH REMOTE IS A STANDARD ACCESSORY FOR AM8
Easy pairing in several clicks. Airmouse function and voice search for better experience and smooth control.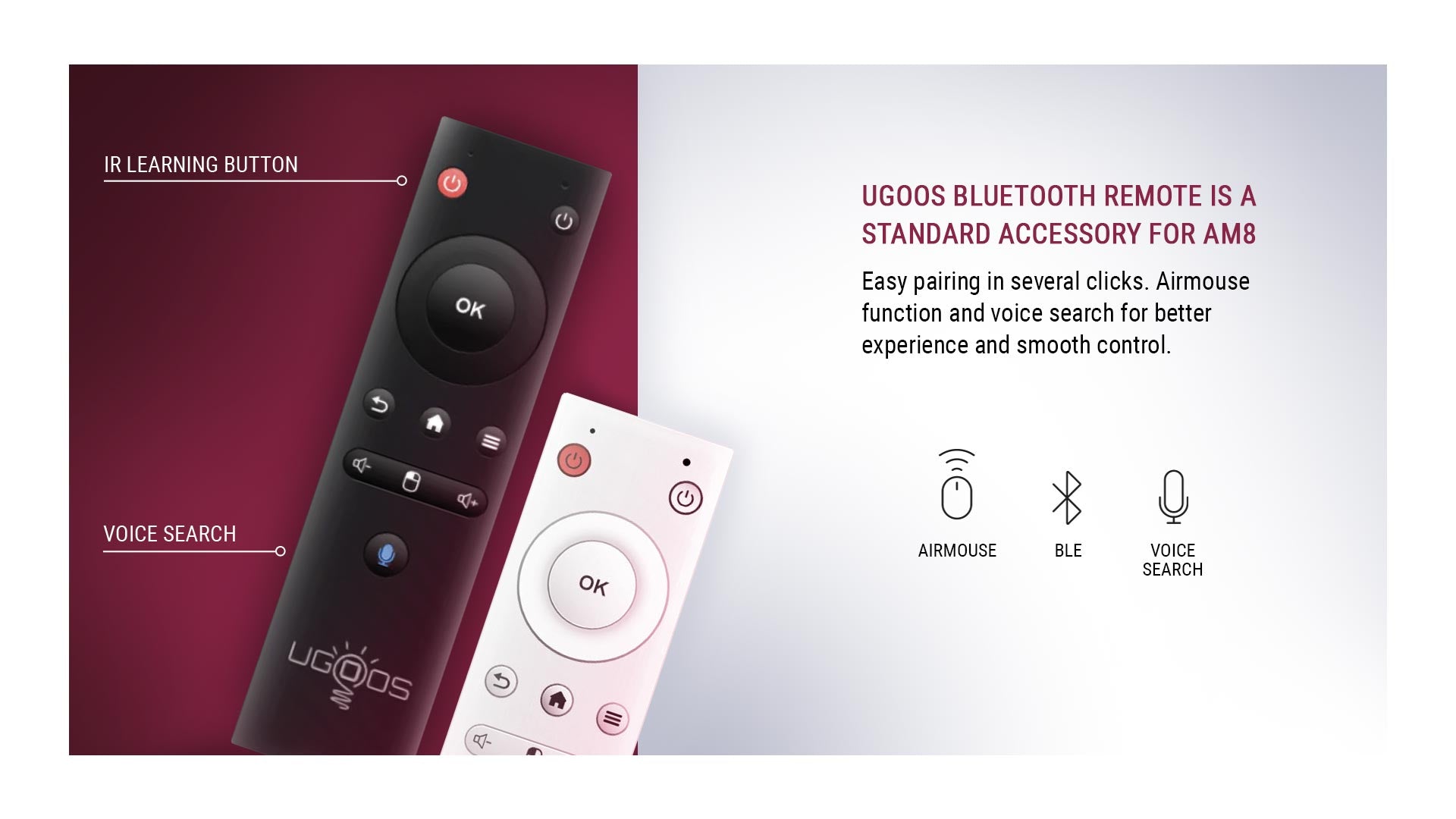 ANDROID 11 Operating System
Ugoos AM8 works under Android Red Velvet Cake OS
AMONG FIRST-TO-MARKET TV BOXES WITH 8K RESOLUTION ON BOARD
PROCESSORS COMPARISON
According to results of AnTuTu Benchmark tests
BLUETOOTH 5.3
Ugoos AM8 supports Bluetooth 5.3 standard
Bluetooth 5.3 LE Ugoos AM8 is up to 2 times faster than otherTV Boxes with Bluetooth 4.2
RENEWED METAL HOUSING
BEST IN CLASS HEATSINK USED FOR STABLE PERFORMANCE
OTA (over-the-air) Updates
When your device get an update, you will be the first who knows about this. Just stay connected and system will install it automatically.
LAN 1Gbit
Fast connection with your local network and online services using 1000 mbit/sec LAN Port
AM8 settings
Every AM8 device has a set of Unique
Features which you have no chances to meet on any other Android devices.
List of features will be continuously increased in future OTA updates.
Samba Server, NFS & CIFS Clients
Your AM8 now is a file server in one click due to Ugoos Settings features.
Simple installation and security settings let you share files within your local network very easy.
Superuser function
Gives ability to grant extra options to the needed apps.
Ugoos Remote Server
Is the way how to control your TV Box using Android smartphone.
Controls Manager
Ugoos TV Box has a row of brand unique settings making your control abilities more flexible than before.
EXTENDED USB PORTS CONTROL
HDMI CEC Extended Control
Extended Screen & Audio
You can control brightness*, screen position, color balance and set up forced orientation.
Audio settings helps to make sure you listen to exact sound format you need.
Power Options Settings
●Turns on/off light indicator on your TV Box
●Set up screen saver and behavior
●Customize power button
●Set up CPU policy
Hardware specification
CPU:
Amlogic S928X-J with 12nm 2.0G HZ,A big core ARM Cortex-A76  and Quad core ARM Cortex-A55 CPU
GPU:
Mali G57 MC2 GPU
Operating system:
Android 11
WIFI:
AP6276P(wifi6E) 2.4G+5G+6G the wireless module complies with IEEE 802.11 a/b/g/n/ac/ax 2×2 Access Points with MIMO standard and can accomplish up to speed of 1200Mbps with dual stream in 802.11ax to connect the wireless LAN
Bluetooth:
Bluetooth  5.3
Dolby Audio/Dolby Vision
support
Network:
1000M EthernetIntegrated IEEE 802.3 10/100/1000M Ethernet MAC with RGMII interface
SPDIF
YES
CEC
support
RTC
support
HDR
support
AV decode:
Audio:Supports MP3, AAC, WMA, RM, FLAC,Ogg Vorbis, Opus, SRS Truvolume, Dolby AudioOptional , DTSOptional and programmable with 7.1/5.1 down-mixing
Video/Picture
− AV1 MP-10@L6.1 up to 8Kx4K@60fps
− VP9 Profile-2@6.1 up to 8Kx4K@60fps
− H.265 HEVC MP-10@L6.1 up to 8Kx4K@60fps
− AVS3 Phase 1 up to 8Kx4K@60fps
− AVS2-P2 Profile up to 8Kx4K@60fps
− H.264 AVC HP@L5.1 up to 4Kx2K@30fps
− MPEG-4 ASP@L5 up to 1080P@60fps (ISO-14496)
− WMV/VC-1 SP/MP/AP up to 1080P@60fps
− AVS-P16(AVS+) /AVS-P2 JiZhun Profile up to 1080P@60fps
− MPEG-2 MP/HL up to 1080P@60fps (ISO-13818)
− MPEG-1 MP/HL up to 1080P@60fps (ISO-11172)
− Multiple language and multiple format sub-title video support
− MJPEG and JPEG unlimited pixel resolution decoding (ISO/IEC-10918)
− Supports JPEG thumbnail, scaling, rotation and transition effects

Video Output

−Built-in full-feature HDMI 2.1a transmitter including both controller and PHY supporting CEC, Dynamic HDR and HDCP 2.2/2.3, 8Kx4K@60 max resolution output
−Support eARC, VRR, QMS, QFT, ALLM, DSC & SBTM
−Supports all standard SD/HD/FHD video output formats: 480i/p, 576i/p, 720p, 1080i/p, 4Kx2Kand 8Kx4K
External storage:
USB A HOST 3.0*3
USB TYPE-C OTG 2.0*1
HDMI:
HDMI 2.1a Type-A 8Kx4K@60fps max resolution
AV output:
NO
Key output:
Power
Antenna:
2 Extra Antennas
Port:
TF Card x1
POWER INPUT:
TYPE-C 12V/1.67A
Dimension
11.6*11.6*2.8CM
Gift Box Size
15*16*9CM
PCS/Carton
20pcs
Carton Size
43.5*40.5*44CM
Weight/Carton
20KG
* Devices' parts or equipment may be changed without additional notification.
Buy the Ugoos AM8 Plus Here